Safety rules are your best tools!
The COVID-19 pandemic has created many challenges in the NCRC work environment as we appropriately respond to change during these unprecedented times. EHS will continue to provide critical services as needed for the NCRC university community, including maintaining a safe workplace to serve the research that continues on-site.  Additionally, we want to create robust safety practices and initiatives that enhance our commitment to improve the institutional culture of safety. 
One initiative includes launching this new "EHS Corner" on the NCRC webpage to cover safety and compliance topics affecting faculty, staff, and students across campus. The resource will include a range of topics addressing environmental concerns, occupational health, laboratory safety, waste disposal, and upcoming training, events, and workplace safety topics including COVID-19 prevention.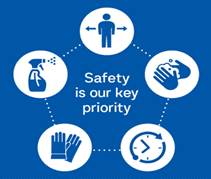 We want to take this opportunity to renew our commitment to improving the culture of safety in all NCRC research laboratories and to remind staff that EHS is a primary focus. It takes hard work and dedication at every level of an organization to manage risk, but it can be done! Remember the following: 
Safety is everyone's responsibility. NCRC provides a campus environment that supports the health and safety practices of faculty, students, staff, and visitors. A safe campus environment is a right of employment for all categories of employees.
Good science is safe science. Safety is a critical component of scholarly excellence and responsible conduct of research.
Safety training is an essential element of research and education. A strong safety culture instills a risk-adverse mindset in the next generation of researchers and future faculty and furthers career development and employability.
An improved culture of safety is necessary to reduce risk, incidents, and accidents on-campus.
NCRC EHS will work with all employees to mitigate potential hazards, unsafe conditions, and unsafe work habits. We will continue to encourage faculty and students to take active roles to identify and ameliorate hazards and risks inherent in project work. NCRC wants to be at the forefront of embracing the idea that the culture of safety is foundational to our educational mission and research discovery process.
We can all improve safety in the workplace whether that be in laboratories; classrooms; or off-site. Let's make it happen!
Allison A. Stockweather, CESCO
EHS Director
PS – Learn more about how to protect yourself and others from COVID-19 with this helpful CDC safety guide.