The North Carolina Research Campus in Kannapolis, NC, is a 350-acre research center located just north of Charlotte, NC. The campus is a scientific community that collaboratively works to empower human health through nutrition. Eight universities, the David H. Murdock Research Institute, companies, and entrepreneurs focus research and development on safer, more nutritious crops, healthier foods, and precision nutrition.
Research and product development is collaborative and multi-disciplinary. Focus areas are as varied as phytochemicals in fruits, vegetables, grains, and herbs; exercise physiology; post-harvest physiology; population-based, genetic studies; and precision nutrition. The growing base of scientific knowledge combines new understandings of how nutrients, plant phytochemicals, the environment, and lifestyle choices impact brain and fetal development, cancer, diabetes, obesity, heart disease, fatty liver, and other metabolic disorders.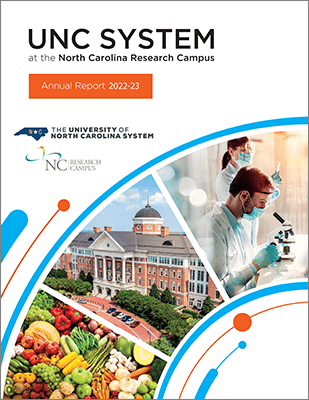 As emerging manufacturing and product development core is focused on research into plant-based ingredients and new processing methods and packaging possibilities. In 2019, a new NC Food Innovation Lab opened on campus and serves the state by keeping commodities grown in North Carolina in the state for processing.
Education is a cornerstone of the campus. Rowan-Cabarrus Community College offers two-year degrees in biotechnology and nursing in their training center which is within walking distance from all of the campus' research centers.
Beyond a research center, the NC Research Campus is an economic driver creating over 1,000 jobs and playing a critical role in the development of the city of Kannapolis and the Charlotte area's growing life science sector.
Click on the cover images to view our Informational Brochure or our Annual Report.


261
Peer-Reviewed
Scientific Publications


$218
Million in Federal and Extramural Funding

52
Faculty – PhD and MD
Level Scientists








101
Undergraduate and Graduate Students

35
Postdoctoral
Research Scholars
Community Events
NCRC Catalyst Symposium

UNC-Chapel Hill Seminar Series

UNC-Chapel Hill Appetite for Life

NCCU Food Security Seminars


UNC-Charlotte Chem101 Speaker Series
STEM Events
N.C. A&T- Rural Food Forums

N.C. A&T with USAID Farmer-to-Farmer Program

NC State Seminars and Workshop Series

NCFIL International Speaker Presentation

UNC-Chapel Hill Nutrigenetics, Nutrigenomics, and Precision Nutrition Short Course